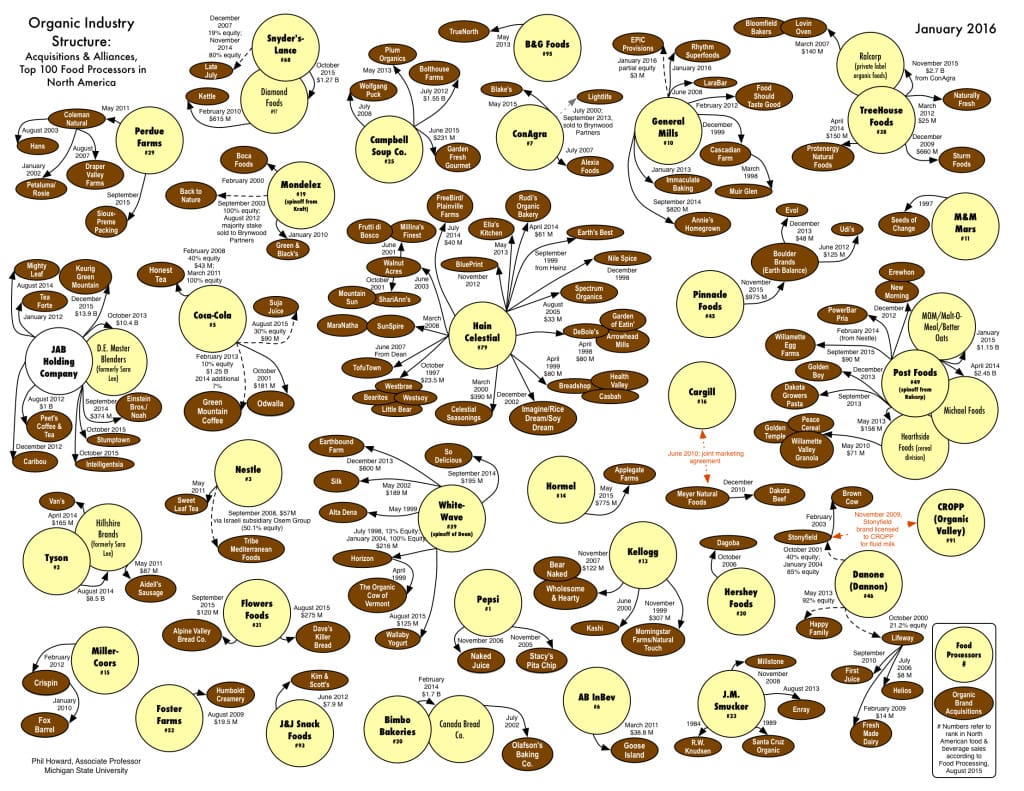 (click or tap on the poster image above to view a quick loading larger version,
and then click on it again for even larger detail)
Download High Resolution PDF for printing purposes
The first wave of acquisitions of organic processors was concentrated between December, 1997 and October, 2002.  This period coincides with the initial release of the draft USDA organic standards and its full implementation in October, 2002. A second wave of acquisitions in the organic sector has been occurring since 2012. Surprisingly few major corporate agribusinesses note ownership ties on their acquisitions' product labels.
Dr. Phil Howard, an Associate Professor in the Department of Community Sustainability at Michigan State and author of the infographic above, has identified some significant updates to his Who Owns Organic Chart, including:
December 2018: Nestle-Osem divested Tribe (sold to Lakeview Farms)
November 2018: Kraft Heinz acquired Primal Kitchen for $200M
September 2018: Kraft Heinz acquired Ethical Bean Coffee
June 2018: Tyson acquired Tecumseh Poultry/Smart Chicken; ConAgra acquired Pinnacle Foods (Earth Balance/Udi's/Evol) for $10.9B
May 2018: Pepsi acquired Bare Foods
February 2018: Danone's venture division invested in Harmless Harvest coconut water; Nestlé acquired majority stake in Terrafertil/Nature's Heart
December 2017: Campbell Soup Co. acquired Snyder's-Lance for $4.87B
November 2017: Unilever acquired Tazo Tea (from Starbucks) for $384M; Nestlé acquired Chameleon Cold-Brew
September 2017: Nestlé acquired Sweet Earth and a 68% stake in Blue Bottle Coffee; B&G acquired Back to Nature (from Brynwood Partners and Mondelēz) for $162.5M; Unilever acquired Pukka Herbs
July 2017: Lactalis announced it would acquire Stonyfield from Danone for $875 M; Campbell Soup Co. acquired Pacific Foods for $700 M; AB InBev acquired Hiball
June 2017: Dean Foods acquired Uncle Matt's Organic
Dean Foods acquired minority stake in Good Karma
April 2017: Unilever acquired Sir Kensington's
February 2017: Maple Leaf Foods (#43) acquired Lightlife Foods from Brynwood Partners
December 2016: B&G Foods (#95) acquired Victoria Fine Foods
November 2016: Pilgrim's Pride (#18, but 76% owned by #4 JBS) acquired The GNP Company (Just BARE chicken) for $350 M; Dean Foods and Organic Valley form a 50/50 joint venture; Pepsi acquired KeVita; Dr. Pepper Snapple Group acquired Bai for $1.7 B
July 2016: Danone announced it would acquire WhiteWave for $12.5 B. Deal completed with the condition that Stonyfield be sold in April 2017
June 2016: Coca-Cola acquired minority stake in Aloe Gloe; Kellogg acquired Pure Organic
May 2016: Hormel acquired Justin's (nut butters) for $286 M
March 2016: Pulmuone acquired Vitasoy/Nasoya for $50 M
General Mills investments via its "301 Inc." venture capital arm include the following: $1.25 M in Tio Gazpacho in March 2016, $2.1 M in Good Culture in March 2016 (+$3 M in September 2016), $18M in Kite Hill in May 2016, additional $6 M in Rhythm Superfoods in January 2017, $6.5 M in Farmhouse Culture in March 2017, and $3 M in Purely Elizabeth in April 2017
Dr. Howard also created the chart, Organic Industry Structure: Major Independents and Their Subsidiary Brands. The independent brands include:
Alvarado Street Bakery
Amy's Kitchen
Bob's Red Mill
Cedarlane
Clif Bar: Luna
Eden Foods
Equal Exchange
Frontier Natural Products: Simply Organic
Lundberg Family Farms
Nature's Path: Country Choice Organic, Enviro-Kidz, Que Pasa, and Gorilly Goods
Organic Valley: Organic Prairie
Pacific Natural Foods (Campbell Soup acquired Pacific Natural Foods in 2017)
Sno Pac
Springfield Creamery: Nancy's
Traditional Medicinals
Yogi Tea
Dr. Howard observes, "I expect more deals to occur, since organic foods sales continue to increase faster than sales of conventional foods, and corporations are flush with cash and/or access to cheap credit."
The Cornucopia Institute has aided Dr. Howard's work with the sharing of research and information over the years. "We are proud to have helped Dr. Howard update this important infographic that so many consumers find to have value," said Cornucopia Codirector Will Fantle.