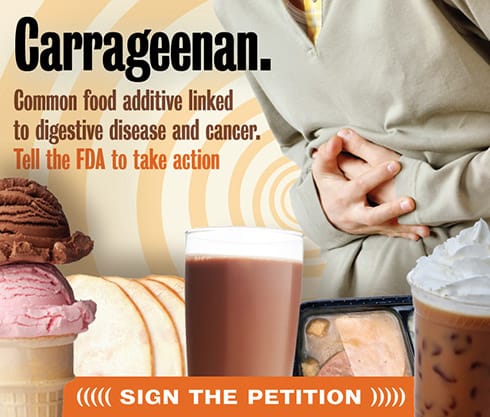 [This alert is over – and we won! The National Organic Standards Board (NOSB) voted in November 2016 to remove carrageenan from the National List for use in organics. It will be some time before all organic products are carrageenan free. Until then consult Cornucopia's buying guide.]
The National Organic Standards Board (NOSB) will be voting in just a few weeks on whether or not to continue to allow carrageenan in organic food at their semi-annual meeting in St. Louis, Missouri, November 16-18.
You can make a positive impact today by signing the petition to remove carrageenan from organic food!
The Cornucopia Institute will hand deliver your petition to the NOSB at the meeting to support the vote to remove carrageenan from certified organic foods. Organics should be the go-to refuge when seeking truly safe food for your family. After the NOSB meeting, we will also deliver the petition to the FDA to call for removing carrageenan from all food.
For decades, publicly-funded research has demonstrated that carrageenan causes gastrointestinal inflammation, irritable bowel syndrome, colitis-like disease, and even colon cancer. The Cornucopia Institute's popular report Carrageenan: New Studies Reinforce Link to Inflammation, Cancer and Diabetes summarizes the scientific literature demonstrating harm from carrageenan consumption. Carrageenan manufacturers and distributers have attempted to discredit this research and spread misinformation every time a regulatory decision is pending about carrageenan.
Don't let the carrageenan industry lobby win again! Sign the petition below.
Carrageenan can be found in many foods, even foods labeled "natural" and "organic." It is widely used in dairy products (chocolate milk, whipping cream, ice cream, nonfat sour cream), frozen dinners, dairy alternatives (soy, coconut, almond "milks"), prepared poultry and cold cuts, nutritional drinks, and even infant formula, but it is not a necessary ingredient. In fact, many companies have already voluntarily removed it from their products based on health concerns.
The Food and Drug Administration (FDA) has been more than willing to listen to the industry-sponsored "scientists" rather than to public researchers, many of whom are funded by the National Institutes of Health. The last time carrageenan was up for review, The National Organic Standards Board voted to authorize its continued use in organic food — let's not allow that to happen again. You can make a difference by signing the petition now and ensuring the public has a say in what goes into our food supply.
Sign the petition, and let the FDA and NOSB know that it's time to act in the interest of our health and safety. Carrageenan is a dangerous food additive, and should be removed from the list of allowed additives in organic foods, and in all food!