Thursday, December 11th, 2014
Regulations Not Being Enforced—Watchdog Asks for USDA to Remove Program Management
In what has been called one of the largest fraud investigations in the history of the organic industry, The Cornucopia Institute, a Wisconsin-based farm policy research group, announced filing formal legal complaints against 14 industrial livestock operations producing milk, meat and eggs being marketed, allegedly illegally, as organic.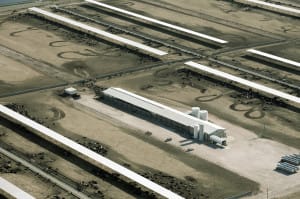 Aurora Dairy, Stratford, Texas
18,000-head, gaming the system.
After years of inaction by the USDA, Cornucopia contracted for aerial photography in nine states, from West Texas to New York and Maryland, over the past eight months. What they found confirmed earlier site visits: a systemic pattern of corporate agribusiness interests operating industrial-scale confinement livestock facilities providing no legitimate grazing, or even access to the outdoors, as required by federal organic regulations.
A photo gallery of the apparent abuses by the giant certified organic operations in question can be found at https://www.cornucopia.org/organic-factory-farm-investigation.
"The federal organic regulations make it very clear that all organic livestock must have access to the outdoors and that ruminants, like dairy cows, must have access to pasture," said Mark A. Kastel, Senior Farm Policy Analyst at the Wisconsin-based Cornucopia Institute. "The vast majority of these massive, industrial-scale facilities, some managing 10,000-20,000 head of cattle, and upwards of 1 million laying hens, had 100% of their animals confined in giant buildings or feedlots." Read Full Article »